The Capital Hearings announced Keane Southard (keanesouthard.instantencore.com) as the winner of its 2018 Young Composers Competition. The group will premiere his piece, "In this short Life," at its eighth annual fall concert, Worlds of Our Creation, on Saturday, Sept. 15 at Live at 10th and G.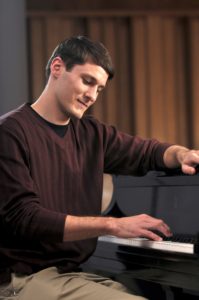 Southard's lush work combines two short Emily Dickinson poems to create a meditation on time and the preciousness of life. The second half of the piece repeats the stanzas in reverse order, reminding listeners of time's transience and circularity.
"In setting these two short poems of Emily Dickinson, I had a strong musical idea that came quickly and spurred me on," said Southard. "I think it is one of my best choral works and I'm very glad that the Capital Hearings believe so too and will be premiering it."
Originally from New England, Southard is currently pursuing his Ph.D. in composition at the Eastman School of Music, having earned his M.M. in composition at the University of Colorado-Boulder and his B.M. from the Conservatory at Baldwin-Wallace College. He has been a recipient of many awards including the Lee Goldstein Composition Award from Baldwin-Wallace College, the Cecil Effinger Composition Award and George Lynn Prize from The University of Colorado-Boulder, and the Ars Nova Singers Colorado Composers Competition. His works have been performed across the U.S. and in Germany, Brazil, Poland, the United Kingdom, Sweden, Romania and Australia. He spent 2013 in Brazil as a Fulbright scholar studying music education.
In addition to this world premiere, the ensemble's fall concert, will feature a diverse set of a cappella works ranging from pop (Stevie Wonder's "Superstition" and Sting's "Straight to My Heart") to jazz (Duke Ellington's "I'm Beginning to See the Light") and classical (William Byrd's "Vigilate" and Ted Hearne's "they get it"). The program includes three original songs written this year (including the composer competition winner) as well as five new arrangements by members of The Capital Hearings.