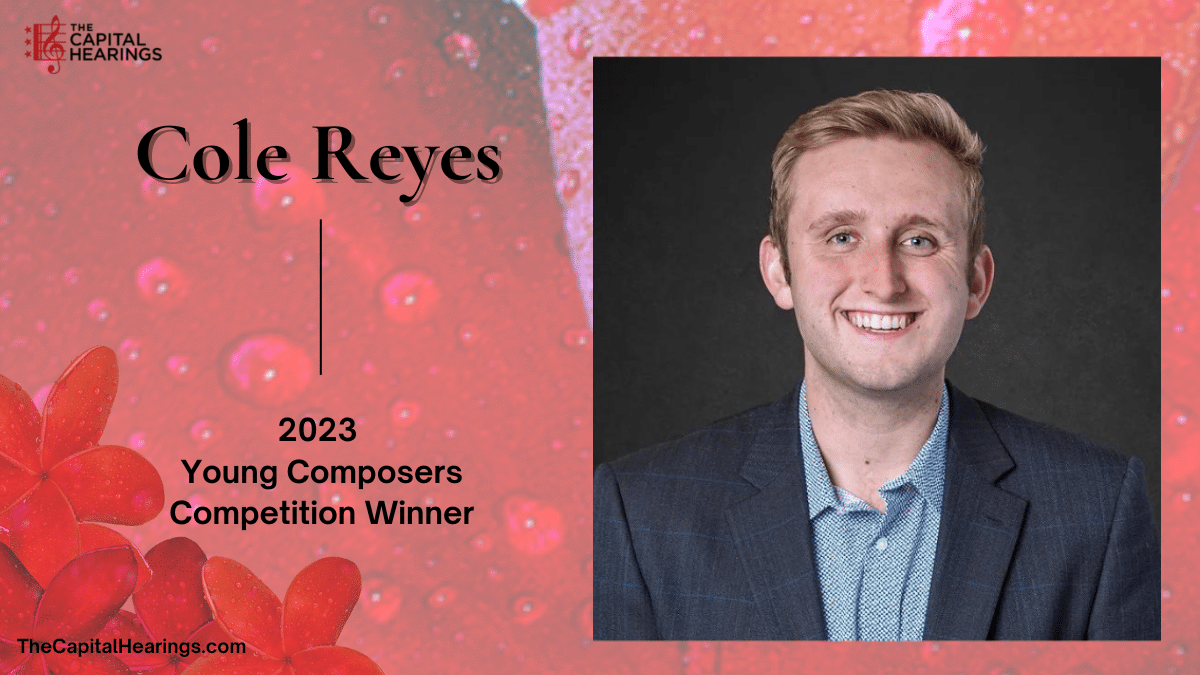 FOR IMMEDIATE RELEASE
COLE REYES IS THE WINNER OF THE 2023 YOUNG COMPOSERS COMPETITION
[
WASHINGTON, D.C.]
– The Capital Hearings is thrilled to announce Cole Reyes as the 2023 Young Composers Competition winner. The competition, open to emerging composers nationwide, searches for innovative talent in the world of vocal music composition.
Cole Reyes, a promising young composer from the Chicagoland Area, captivated the judging panel with his remarkable compositions, which effortlessly blended harmonious melodies and lyrical storytelling.
The Capital Hearings launched the Young Composers Competition to discover and nurture emerging composers, providing them with a platform to showcase their creativity and musical prowess. The competition saw entries from a pool of talented composers across the country.
First starting his composition journey at the spry age of six, Cole is now working on his Doctorate at the University of Michigan. Speaking on this collaboration, "One of the reasons I have loved following The Capital Hearings throughout the years, is watching their incredible fluency in and out of various genres. As someone who often composes with multiple genres in mind, I always enjoy working with ensembles that incorporate many styles of music into their repertoire."
The world premiere of Cole Reyes's winning composition, "Moments of Vision" will be featured in The Capital Hearings' upcoming Fall Concert on October 14th. It was inspired by his transition from New York to Michigan. " I was left thinking about who I was and how far I had come," says Cole. "This piece stands as an invitation to look back and reflect on how to move forward."
The Capital Hearings will be celebrating Cole Reyes's victory during our Fall Concert on October 14, at Live! At 10th & G, where the audience will have the opportunity to witness the winning composition performed by the ensemble. Be sure to purchase your tickets for this amazing once-in-a-lifetime moment!
For more information about Cole Reyes and his winning compositions, please visit colereyesmusic.com. The Gay Men's Chorus of Washington, D.C. will premiere his next original composition in June 2024 as part of a larger work with dance and visuals.
About The Capital Hearings:

The Capital Hearings is a dynamic a cappella ensemble based in Washington, D.C. With a passion for vocal music and a dedication to pushing the boundaries of a cappella, The Capital Hearings has been delighting audiences with its innovative and captivating performances.
For more information, please contact:
Cristina Lopez

General Manager
Email: [email protected]
Follow The Capital Hearings:
thecapitalhearings.com
Instagram: @capitalhearings
Facebook: The Capital Hearings
Follow Cole Reyes
colereyesmusic.com
Instagram: @colereyesmusic
Facebook: ColeReyesMusic
This project was supported by the DC Commission on the Arts and Humanities.