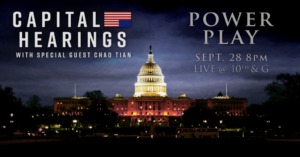 The search for power is a timeless one; from the dawn of civilization to #MeToo, everyone in history has been shaped by their own power–or lack thereof. History is littered with the forgotten stories of the underprivileged and the censored tales of those who lost their battles.
How humanity measures power on the large scale has shifted with the times: the ability to provide has given way to the charisma to inspire, while physical strength has been overtaken by wealth and capital. Whether we put our trust in the mystical or summon our courage from superheroes, some things remain steadfast: the struggle for power–whatever its form–seems as though it may never dissipate.
When you're at the bottom of the ladder, the top seems unreachable. As soon as you feel empowered, though, it's as if you're unstoppable. How has our society's expression of power most affected you?
Join us as we premiere the winner of our 2019 Young Composer Competition. This concert will also feature guest artist Chao Tian on Chinese dulcimer.
POWER PLAY: The Capital Hearings in Concert
September 28, 2019, 8 PM
Live! at 10th & G
Tickets: $20, or $25 at the door
Tickets available here. Check our facebook event for the latest updates.