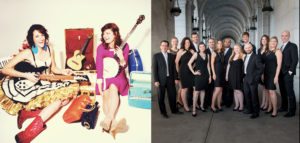 In a free performance, The Capital Hearings and D.C. folk duo The Sweater Set will co-premiere original music in a unique collaboration. The project, supported by the D.C. Commission on the Arts and Humanities, will bring new songs to new audiences and showcase the incredible musical talent of local artists.
The concert will take place at at 7 p.m. on Sunday, July 16 at All Souls Episcopal Church in Woodley Park, Washington, D.C.
The event will showcase the co-premieres of two original songs commissioned by The Capital Hearings from The Sweater Set's Sara Curtin and Maureen Andary, along with versions penned by leading contemporary a cappella arranger Tom Anderson. Performing each song in acoustic and a cappella styles allows listeners to experience the transformation from original composition to a cappella arrangement. The program will also feature a wide variety of folk, jazz, classical, and pop music from both groups. The performance will be preceded by a 6 p.m. reception.
Free tickets can be reserved through Eventbrite. The performance is part of the 2017 All Souls Festival of Music.
RSVP to the Facebook event and read the full press release for more information.