A cappella performance explores political change in "Revolutions & Revelations"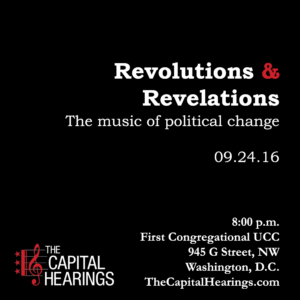 The Capital Hearings, a D.C.-based 14-member a cappella ensemble, announced its 6th annual fall concert event at 8 p.m., Saturday, Sept. 24, "Revolutions & Revelations: The music of political change." The concert at First Congregational UCC will bring together a diverse repertoire of classical, jazz, musical theater and pop a cappella music from the U.S. and around the world.
"In a time of local and global political uncertainty, the music of Revolutions & Revelations gives us new perspectives by looking and listening both forward and backward in history," says The Capital Hearings Music Director Dileep Srihari. "It has been a pleasure to learn the stories behind this incredible music, and to see how, in times of crisis, celebration and change around the world, these songs have acted as the glue holding people together."
Featured music includes diverse works from the Broadway musical Hamilton, classical composers Jean Sibelius and William Byrd, global rock icons U2, and jazz legend Duke Ellington. The concert will also showcase the world premiere of the winning composition from the ensemble's 3rd Young Composers Competition. Tickets are available for purchase online at TheCapitalHearings.com/tickets. First Congregational United Church of Christ is located at 945 G St, NW in Washington, D.C.
Since 2010, The Capital Hearings have crafted a unique and compelling blend of cross-genre a cappella in Washington, D.C. Bringing together singers from a wide variety of musical backgrounds, they are dedicated to making exceptional music from jazz standards to Top 40 hits and classical choral favorites. Their debut album, Opening Statement, was released in 2013.